Title:
Redeem
Author:
Jane
Rating:
PG-13
Warning:
Dark fic.
Character:
Bobby Taylor
Summary:
Takes place a few days after the CSI episode Milo was in. Don't read if you haven't seen the episode.
Word Count:
546
Spoilers:
If you've seen the 'CSI' episode, you're fine.
Disclaimer:
I own nothing.
Author's Note:
There's a random Prison Break reference.
The first person to find it gets a cookie.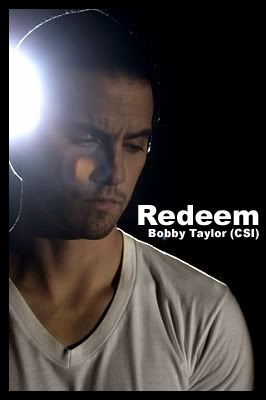 Diminished Capacity: Lack of ability to comprehend the nature of a crime one has committed or to restrain oneself from committing a crime.
---------
Bobby Taylor rested his head against the cold wall of his cell at Nevada Mental Health Care Institution.
So this is what it's like on the inside of a crazy house,
Bobby thought to himself.
He and his lawyer won the diminished capacity plea. So, instead of a life sentence in prison for malicious manslaughter, he got nine years in the psych ward. After he'll be released, he wouldn't be totally free. He'd have to undergo random drug tests and go to weekly counseling. Personally, he didn't care. He didn't care what happened to him. He didn't care if he was in a concrete cell at a hospital. He didn't care if he was in a concrete cell at a prison and became the bitch to a man named Avocado. He didn't even care if he had a ball and chain attached to his ankle and had to smash rocks in the scorching sun. He especially didn't care if he died.
No means of punishment could make him feel any worse than the guilt and regret bottling up within him, eating away at his insides. He felt so stupid for thinking there was such a thing as a safe high. He absentmindedly murdered his best friend. There was no punishment for that, except having to live with it.
He banged the back of his head against the concrete wall he sat infront of as he tried to hold back the tears burning behind his eyes.
"Eric," he sobbed. "I'm sorry, Eric."
You've always been there for me, Eric. Through everything. And as a thank you, I suffocate you. Great best friend, I am.
At that, Bobby recalled the day the verdict was given.
He was being led from the courthouse in handcuffs when Eric's mother incepted his path. She starred into his eyes, as if trying to read his soul, like maybe his motive for murder was written across it.
"I'm sorry," Bobby murmured. He knew a simple apology would never redeem him in a mourning mother's perspective, but he just needed to tell her that.
"You took my son from me. I will never forgive you, Robert Taylor.
Never!
" She burst into a fit of sobs and walked off.
After that, Bobby was escorted to the jail, where he spent the night before arriving at the mental hospital the next morning.
Eric's mom will never forgive him and he will never forgive himself.
I can't stand feeling like this.
He reached into the pocket of his white jumpsuit and pulled out the shard of glass he found in the lobby that morning after one of the other patients had a fit and threw a shoe through a window. When he saw the glass, he knew it was the only way to escape his guilt.
Holding up the glass, he exhaled as it sank in that was really going to do this.
"I'll see you in a minute, Eric," he whispered.
He brought the glass down to his wrist and broke his skin. He grimaced through the pain knowing it would be over any minute now. The crimson liquid was the last thing his eyes saw of the world before drifting off into a cold, formless haze, finally redeeming himself.
Mood:
anxious
Music: Let It Out - Hoobastank